Manchester City striker Sergio Aguero is set to be banned for four games after his horrendous high challenge on David Luiz in the closing minutes of City's 3-1 loss to Chelsea at the Etihad. Aguero received a three-match ban earlier this season for an elbow to West Ham's Winston Reid and is all set to miss another four games after his latest aggressive tackle at the end of the game against Chelsea.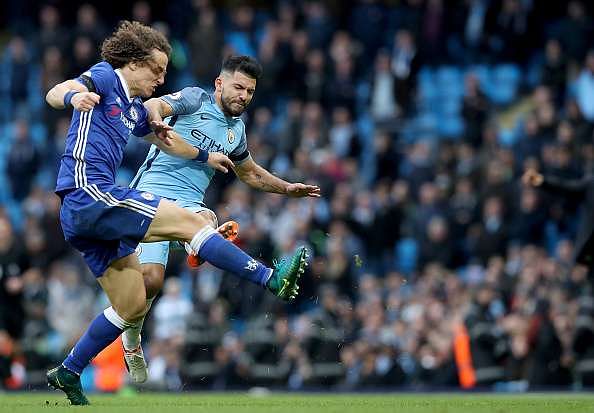 Sergio Aguero's high tackle on David Luiz led to a direct red
City were down three goals to one against the Blues and Aguero was dribbling past the Chelsea players on the left flank only to find his touch intercepted by David Luiz. The Argentine striker, in a sudden rush of blood, went studs up into a tackle that was high as well as hard on David Luiz, leaving the Chelsea defender on the floor in agonising pain.
The incident caused mass altercations across the pitch as both team's players rushed into a tussle with each other in what looked like a clear case of frustration shown by the City players after being outclassed by league leaders Chelsea in the second half.
Fernandinho also got sent off by referee Anthony Taylor soon after following a throat-grab on Cesc Fabregas, but replays suggested that he was provoked by the Spaniard who slapped him just before he reacted in such a manner.
Cesc Fabregas was also cautioned along with Blues youngster Nathaniel Chalobah, the latter involved in a tussle with City's Kelechi Iheanacho.
Both Fernandinho and Aguero are set to miss Manchester City's upcoming fixtures against defending champions Leicester, Watford and Arsenal, with Aguero banned for the game against Hull as well.
Aguero is City's top scorer in all competitions and despite starting the season well, now must sit out a number of games because of his rather consistent aggressive behaviour.
It was a rather poor display from Guardiola's City side, who despite going 1-0 up in the first half through a Gary Cahill own goal, lost out to Chelsea who scored three in the second half.
Goals from Diego Costa, Willian and Eden Hazard were enough to sink the Citizens as Chelsea ran riot in the second forty-five at the Etihad.
However, there were some positives from the game like Chelsea's Willian and David Luiz showing their respect to the players who died in the tragic Chapecoense FC plane clash, flashing their black armbands which contained the words 'Forca Chape' after Willian scored his goal.
The win now sends the Blues four points clear at the top of the Premier League table ahead of both Liverpool and City.
This article was sourced from here: http://www.sportskeeda.com/football/manchester-city-sergio-aguero-banned-four-games-arsenal-clash